We're Getting Mutants in the MCU - The Loop
Play Sound
"Pu$$y" is a song by Iggy Azalea. The track is from her debut mixtape "Ignorant Art". The song is the fourth track on the mixtape.
Background
[
]
"Pu$$y" is the first and only promotional song from "Ignorant Art".The ending of the video and a few parts of the song is from cute YouTube video called "Kittens inspired by Kittens". It has little girl doing a voice over for a book about Kittens.On April 29, 2013, Iggy Azalearevealed that the song won't be included on her debut studio album [1]
Critical reception
[
]
The song received negative reviews from the critics. Many people said negative things about having a young child in the video for the song. When the music video for the song was released, Perez Hilton compared Iggy Azaleato rapper Kreayshawn.
Music video
[
]
The music video for the song was released on August 31, 2011.
Remix
[
]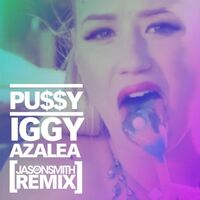 A remix of the song by Jason Smith was released on March 13, 2012.
Live performances
[
]
Iggy Azaleaperformed the song when she was supporting Rita Ora on her tour "Radioactive Tour" and when she was supporting Nas on his tour "Live Is Good Tour".
Lyrics
[
]
 
[Verse 1]
Iggy Iggy pussy illy
Wetter than the Amazon
Taste this kitty
Silly Billy Poppin Pilly's
Smoke it like a Swisher
Lick this Philly
Mold em Ah! Soak em Ah!
Hook em like crack, After shock
Molten Ah! Lava Drop
This should be outlawed, call me Pac
(Pu$$y Pu$$y)
The illest on the planet
Better play ya cards right Mr. Gambit
If you wanna hang here, ain't no hammock
Never, not better, Law should ban it
Never, not better, Law should ban it
I do it right, wit Drugs understand it
I do it right, now please soak panty

[Hook]
Left right back to the middle
Head on a swivel neck till I quiver
Open ya mouth
Taste the rainbow taste my Skittles ah!
[2x]

Pu$$y Pu$$y Pu$$y
[4x]

[Verse 2]
You know bitches envy me
Cause you won't get rid of me
When you cum, I run
This cat's got you missin' me
Bad Boys get a mouth full of pussy aka Listerine
Here to make you lose your mind
Gonna need a Sherlock Holmes
To solve your mystery, I'm naaasty
Baby what you thinking? Aka Titanic
So much wet will have yo ass sinking
Treat that tongue like a bullet
Give me head, Abe Lincoln
This is so out this world
But no you not dreamin'

[Hook]
Left right back to the middle
Head on a swivel neck till I quiver
Open ya mouth
Taste the rainbow taste my Skittles ah!
[2x]

Pu$$y Pu$$y Pu$$y
[4x]


References
[
]